Henrie Diosa
they/them
Amateur university student, part-time poet, mad artist, untrained soprano.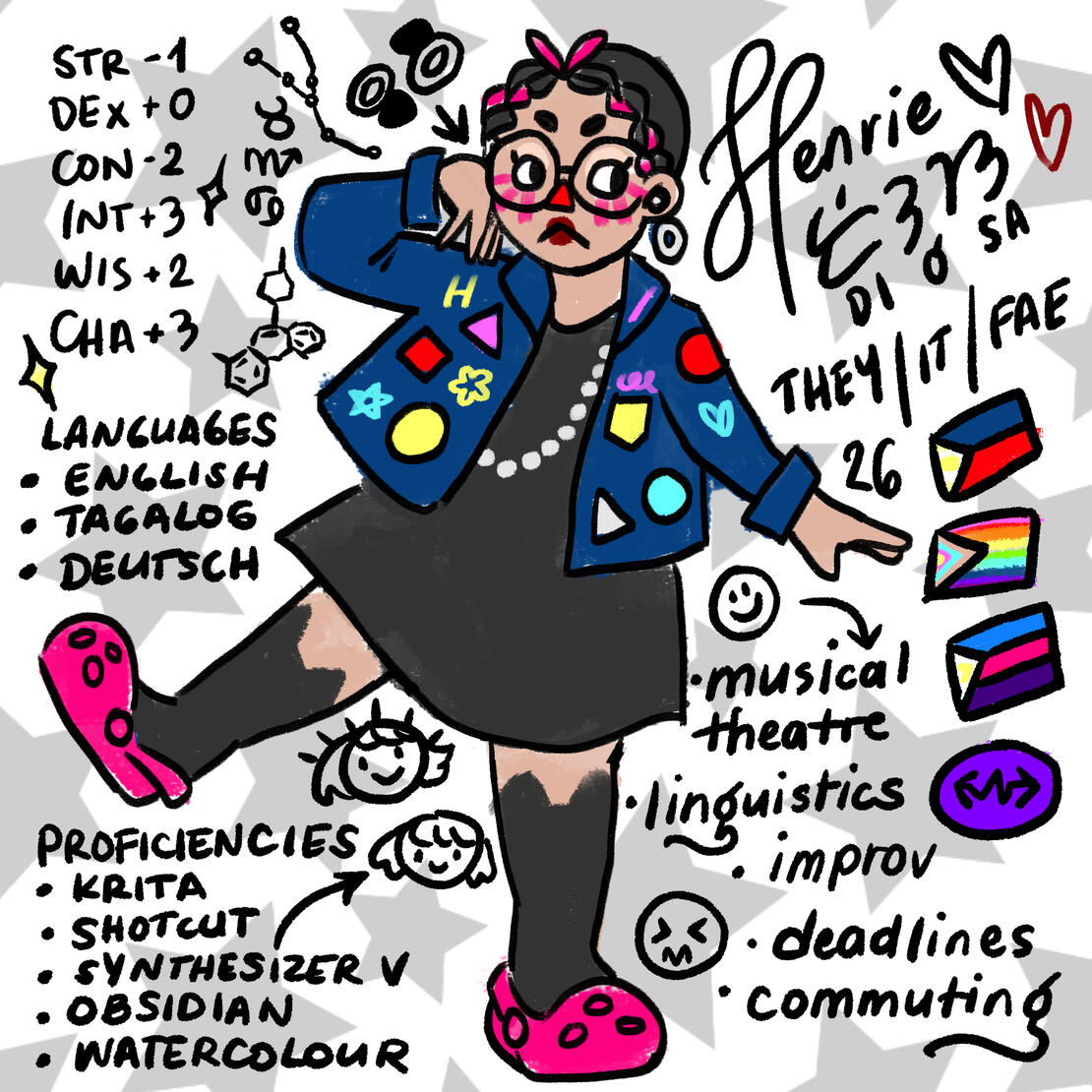 About
I personally pronounce my name /hɛnɹi dʒɔsɐ çɪmɛnɛs/. I also think it's cute when people pronounce my first name /ɔ̃ʁi/ because it's a French name, but you don't have to. Jimenez is my family name, so just Henrie Diosa is fine if space is an issue.

I don't just "identify as" asexual, non-binary, and genderqueer, that is who I am. They/them and it/its are not just my "preferred" pronouns; they are required. Click on the links to see how to use them correctly. Similarly, please avoid using gendered language when referring to me, and fall back on masculine terms only when necessary.

Auf Deutsch sind meine Pronomen es/ihm/sein, und wenden Sie bitte das Neutrum an.

I'm currently under the BA Creative Writing Program of the University of the Philippines Diliman.

I'm the author of Well-Arranged Inkstains, a self-published collection of short stories and poetry that came out on my eighteenth birthday.

One of my poems (the wasp) has been featured in MUSINGS DURING A TIME OF PANDEMIC: A World Anthology of Poems on COVID-19, available on Amazon, and another (leave your shyness) was featured at the Ngilngig Asian Fantastic Film Festival in Road Map Series' collection Darkness at Daybreak, available through their official merch store here. (Proceeds go to the Art Relief Mobile Kitchen Davao.) My poetry and short stories have also appeared in the ISIO's April 2021 digital zine here.

My work has also appeared in the online journal Quatrain Fish, here (malaprop) and here (to the universe).

I'm schizophrenic! I like it when people know. I prefer identity-first language ("disabled person") to person-first language ("person with disability").

Some of my hobbies include musical theater, fibre arts (crochet, embroidery, weaving, sewing), and cooking.

Want to interview me, or have me write, speak, or consult for you? Feel free to get in touch! Wondering what I've been up to lately? Join the Minamahal on Patreon to get my monthly secret letters, or check my public Trello list. Looking to generally hang out? You're most likely to find me on Twitter and Instagram (and Discord if you know where to look!)
German Tutorials
I teach German from the absolute beginner level (A0) to the intermediate level (B1). Whether you're reviewing for your placement exam or want to expand your world with a new language, I can craft you a personalised lesson plan and teach you at your own pace.

I am fluent in German at the B2 level, having completed 39 units of German at the University of the Philippines Diliman as well as a C1-level summer course at the Bremen City University of Applied Sciences.

Rates are ₱ 500 per hour for 2-hour sessions twice a week, exclusive of printed worksheets. Discounts are available for those who book long-term lessons. Please message me to set up a placement test and discuss schedules.
Graphics
I designed shirts and social media posts for Limitado and made gig posters for Bigtimetado Productions from 2015 to 2018; I worked as a graphics intern for ALLCARE in late 2019.

I also make logos, pitch decks, and presentations.

I work in Canva, Google Slides, Krita, and GIMP.
Portrait Commissions
I can draw you, your family, your imaginary friends, your imaginary enemies, your original characters, your pets, and so much more!
(Within reason.)

I can also help with character design! My special interests are vintage clothing (late 1800s-early 1900s), lingerie, and handmade clothing, especially crochet. Send me a message!
Commission Info
Rates
Simple icon : $ 20 / ₱ 400Detailed icon : $ 30 / ₱ 650Half body : $ 40 / ₱ 1,500Full body : $ 50 / ₱ 2,500Character sheet (1 full body + 2 headshots, flat colour) $65 / ₱3,000+ 50% per extra character (Ask me about discounts for systems / multiples!)Solid colour / gradient backgrounds are free. (Ask me about complex backgrounds!)
Yes, I will draw:
soft nsfw (some nudity, suggestive poses)queer ships (gladly!)simple mecha / armourfurries / anthrofictional charactersyour ocsreal people
No, I will NOT draw:
hard nsfwgore / body horrorpedophilia / incest / non-concomplex mecha / armour
Last update: April 2021
I accept payment via bank transfer, Paypal, GCash, and Paymaya.The rates shown here are for non-commercial use only. For a quote for commercial projects, please email me. Rates provided here are presented as a guide and may change based on the complexity of the project (no visual references provided, simpler colouring, additional characters, background, etc).You may not mint or sell my work as an NFT or for any form of crypotcurrency.To confirm your slot, please send an email with references and details (size, art style, and purpose) to [email protected]. An invoice will be sent to you after I read your email and determine the price of your commission.A 50% down payment must be paid upon receipt of the invoice. The remaining 50% must be paid after receipt of the preview of the finished portrait. Upon payment, the complete file will be sent to the email provided by the client. Down payment is non-refundable.Revisions sent after receipt of the first sketch are free of charge — additional revisions will cost an additional 20–70% of the original price depending on complexity.All commissions are drawn 1500 px wide unless otherwise requested. This is more than enough for most social media icons and posts. If you have other uses in mind for your portrait (especially print), please include a note with your message with the intended use of your commission so I can work in an appropriate aspect ratio.
Cartomancy
Before getting a reading, please consider reading this article from Labyrinthos on phrasing effective tarot questions.

I have been reading tarot cards for fun and self-discovery since I was in high school, and professionally since 2018. I consider myself a pre-intermediate tarot student, most familiar with the Rider-Waite-Smith tradition and beginning to learn the Marseilles tradition. I have been reading the Petit Lenormand since 2018.

My readings are focused on the querent/client and the choices that they have in their current situations. I encourage them to use their intuition in reading their own cards in order for them to uncover the answers themselves.

Your reading and any information you give for the purposes of the reading will be treated with the utmost respect for your privacy.

These readings are for entertainment purposes only, and no guarantee is given on their accuracy. I am not qualified to give medical or legal advice; my services do not replace those of legal and medical professionals. I will not be liable for any damages arising from use of this service.

You can purchase a reading through my Ko-fi Commissions page.
==Photo by Patrick Tomasso on Unsplash.==
Proofreading, Sensitivity reading, and editing
What is a sensitivity reader?

I can read both technical and literary texts in English, and give my comments on word choice and much more! I speak from both my own lived experiences and my studies.

My areas of interest:
linguistics (specifically phonetics, morphology, syntax, and pragmatics) 💠💠💠student life in Manila 💠💠💠the asexual and aromantic spectrum 💠💠💠💠traditional and digital painting, baking, and crochet 💠💠💠💠mental illness (specifically depression, anxiety, suicide, and psychosis) 💠💠💠💠💠gen z / post-2010 transgender and non-binary online youth culture 💠💠💠💠💠
Message me for a quote. Students get a 20% discount.
Transcription
I have done transcription work for the Table to Stage podcast, as well as various local thesis students and researchers. It takes me an average of three minutes to transcribe one minute of good quality English or Tagalog audio, and my rate is $2/₱100 per audio minute.

I can add English and Tagalog captions to videos either as an SRT file or as text overlays. I use Kdenlive to add captions to videos.

I can do narrow and broad phonetic transcription with PRAAT. Please message me to discuss the project and get a quote!
==Photo by Ales Nesetril on Unsplash.==
Video Projects
In April 2021, I drew, animated, and edited a music video for MNR MJRTY's song Y, on their debut album In color and chaos. The music video was boarded in Storyboarder, finished up in Krita, and put together in ShotCut. I posted a comparison video with the storyboards and the final cut (without effects) side-by-side on my own channel.

In May 2020, I made a PV/animatic for The Guy Who Didn't Like Musicals, from the StarKid musical of the same name. I did all the art, from the storyboards to the illustrations, in Krita, and put the video together in Kdenlive.

In June 2015 I published an arrangement of Alice by Furukawa-P, featuring vocals by V3 GUMI and Kaito and an original instrumental made in Aria Maestosa.

To see what I'm currently working on, join the Minamahal on my Patreon to get my monthly secret letters, or check my public Trello list.
Support
Keep me creating!

You can tip me in coffees (increments of $3) on my Ko-fi, where I post sketches and studies. If I'm currently crowdfunding something, the goal will be visible on my Ko-fi page.

You can join the Minamahal on Patreon for just $1 per month, and get the monthly secret letter, as well as early access to my poetry, a special mention in my published projects, and my eternal gratitude.
May Jimenez / Henrie Diosa
Illustrator, editor, and writer
Marikina City
+63 905 346 4017
[email protected]
Skills
Languages
Tagalog: Native speaker.English: Native speaker. I regularly listen to a wide variety of podcasts and video content featuring American, Canadian, British, and Australian accents.German: 24 units of German, CEFR B2 onSET Zertitifkat.Translation: Took 3 units of Translation Studies.
Project Management
MS Office SuiteGoogle SuiteTrello
Creative
Krita, GIMPKdenlive, ShotCut
Work Experience
June – July 2019
Table to Stage Podcast Freelance Transcriber
Transcribed 1 hour long interview-type podcast episodes in American English.

January 2021 – present
speak2 Online Teacher
Taught grammar classes in A1 and A2 German to Filipino students.
Publications
Well-Arranged Inkstains
Musings in a Time of Pandemic
Quatrain.Fish
ISIO Zine